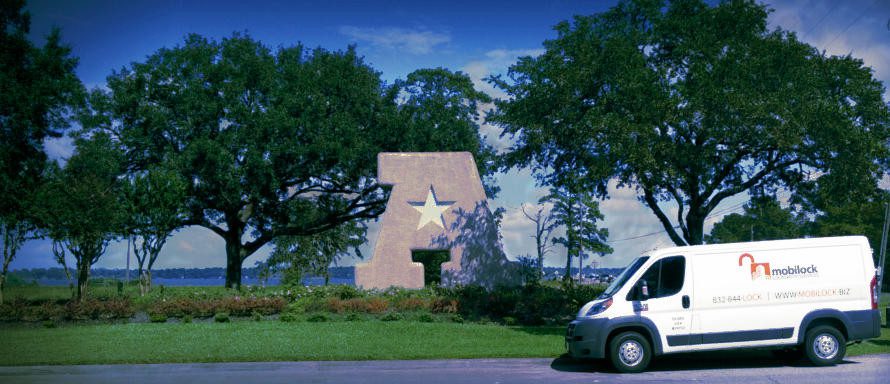 Mobilock
You're done searching! Mobilock offers the best prices in Humble & Atascocita.
Comparing prices? We'll give you solid quotes right over the phone. Don't be tricked into overpaying by scamming locksmiths. We don't have any "and up" prices. There are a lot of illegal, unlicensed locksmith listings right here in Humble, Atascocita, Huffman, Dayton and Crosby that will often attempt to charge you several times worth the actual service value. For more information about scamming locksmiths, find the video in our
blog
or visit the
Federal Trade Commission
website to see a similar article:
Finding a Locksmith
Finding a Locksmith
. Call us today at
832-844-LOCK
832-844-LOCK
and get worry-free lock solutions from a Mobilock professional.
Is Mobilock near me?
Mobilock is a mobile locksmith company with services coming straight from the center of Atascocita. We travel to your location in and around Humble, Atascocita, Huffman, Dayton and Crosby to solve any of your commercial or residential lock troubles. Worried about other locksmith companies performing inadequate work? We stand by our work and offer a full three-month guarantee to ensure your satisfaction. If you have any concerns about the service we provide, we come back and fix it for FREE!

Commercial expertise.
Do you manage an office or storefront? Mobilock technicians are experienced in various commercial applications. We offer support for storefronts, office buildings, warehouses and malls. In fact, our locksmiths have experience servicing many malls across the Houston area including Deerbrook, Willowbrook, Baybrook, Memorial City, Greenspoint, Katy Mills and even the Galleria! To learn more about our commercial services, visit our
Commercial
Commercial
or
Contact
Contact
pages.