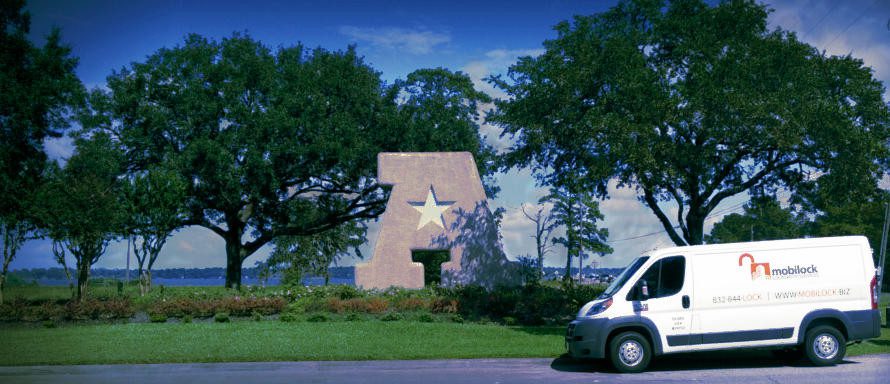 Mobilock
We have the most affordable prices in Kingwood and Atascocita!
Kingwood has a new mobile locksmith! Mobilock offers commercial and residential locksmith services to all of the Kingwood community. Our locksmiths can repair, install and unlock a wide variety of hardware. From making keys to antique locks to installing and programming electronic keypads, we cover a vast range of services. Ask a Mobilock professional locksmith what you can do to better secure your home or business.

Locked out?
Mobilock has trained and experienced locksmiths that can unlock your business, home or vehicle. Need a key too? For commercial and residential clients, we can either make a key to your existing locks or rekey them if you believe it has fallen into the wrong hands. All customers should be willing to supply identification and proof of ownership, and be willing to sign a government document stating your authority to open the property. Mobilock always puts security first to prevent crime and keep Kingwood safe.
Take a worry-free vacation!
Going out of town? We have several different options to reinforce your doors and protect from forced entries so you can have more confidence that your home is secure while you're away. Don't have an alarm system? We offer affordable alternatives that won't break the bank. Stand-alone alarm units are becoming more popular among our customers and are even used by many of our commercial clients. Contact Mobilock of Kingwood for further information and ask a professional locksmith how to improve your security. Call us today at
832-844-LOCK
832-844-LOCK
.
Don't get scammed! Get solid prices.
Mobilock encourages you to call around and get quotes. We understand that prices can be a large factor when choosing a locksmith. However, there are also many locksmiths that will take advantage of that important factor by giving you low quotes on the phone, only to overcharge you when they arrive. To avoid legal issues, these locksmiths will often give you a base price and say that labor is evaluated on-site. For most genuine locksmiths, this is not common practice. To avoid these scams, we recommend getting a solid quote beforehand without any "and up" prices.